Super Mario /v/orld 3: New Vegas is no longer delayed!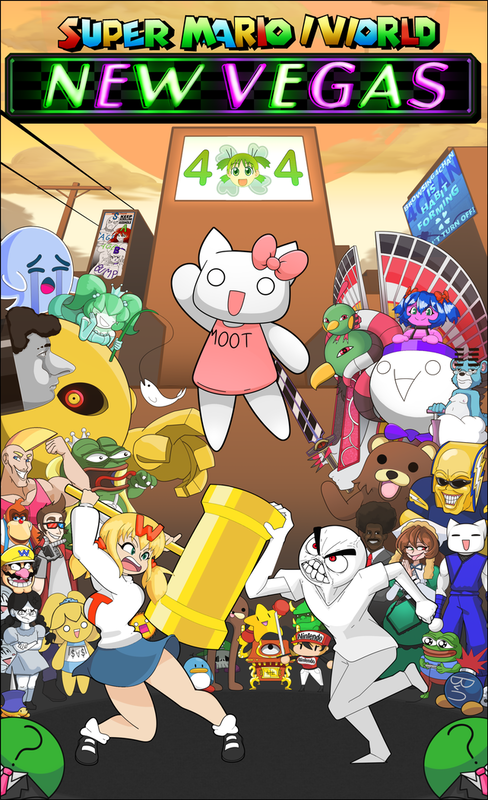 The hackers on steroids known as 4chan return! Super Mario /v/orld: New Vegas is the third installment of 'Super Mario World' collab hacks from the /v/ board. From May 1st 2021 to June 24th 2021, 94 levels were submitted. As with previously, SM/V/3's goal was to make fun and well designed levels themed around the absurd, disgusting and somewhat beautiful nature of the anonymous imageboard. players Discretion is advised. This is 4chan You should know what you're getting yourself into.

A balance of Vanilla levels along side Heavy ASM-oriented levels make up the majority of the hacks content. Custom sprites, custom ASM and custom bosses were created specifically for the romhack. Difficulty ranges from Medium/Hard early game to Very Hard/Kaizo lite late game.

Infinite lives are enabled from the beginning of the game. (If you prefer the /v/orld 2 life system, the ingame shop can revert it back).

A 1.1 update is planned to release down the line to implement a character swapping system along side a boss rush to showcase all the custom bosses created for the hack.
If you have extra questions, please email Vhack2020@gmail.com about them.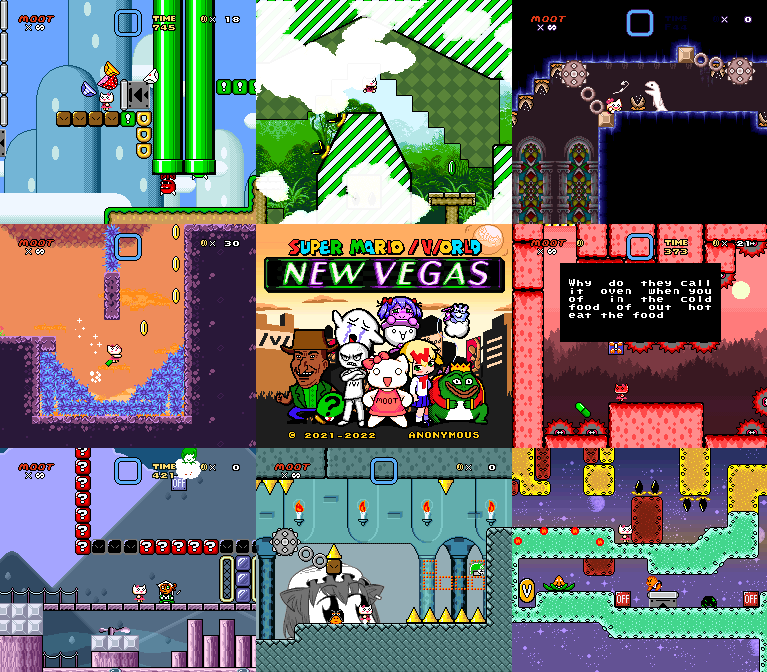 VERSION 1.09
Clap For The Lava Reef Zone
It's a Feature
The Grand /v/inale

boss nerfs
wait time before superattack is 7 attacks instead of 8
platforms are no longer apart
dash attack is slightly slower
VERSION 1.08
The Grand /v/inale

changed order of rooms to balance difficulty
heavily modified polandball room
nerfed shell teleport room
made gravity gun room solution easier and more clear
VERSION 1.07
Ampharos Hell

nerfed footballs
added retry

Booster Mountain

slightly nerfed
added 1-up checkpoint to make normal exit easier to access after secret exit
VERSION 1.06
disable pause item no longer bugged
fix is 100% compatible with old saves
THE ORIGIN OF LIFE

added creator's changes to nerf difficulty

Bowser's Castle
Paint Panic
VERSION 1.05
It's A Feature

added midpoint to final segment

Peak of Delusions

removed a sumo bro at the end of the level

Permaban /f/ortress

added midpoint at the boss (there was supposed to be one)

SADIST COURSE EX

fixed boss (this indirectly fixes bowser room 1E3 which also uses the same ASM)
add two >>proper midpoints

Bowser's Castle

nerfed left side of room 127
nerfed room 1E5
added a mushroom at the start of rooms 1EB and 1EC

Ampharos Hell
The Grand /v/inale

added a mushroom at the start of mini room
nerfed gravity gun room

Super Moot Boy
VERSION 1.04: SO MANY LEVEL NERFS YOU HAVE NO FUCKING IDEA
Enchanted Midnight

nerfed difficulty
secret exit is more obvious, no longer requires replaying the second half of the level
added retry

Temporary Temperature

nerfed difficulty
added retry

Day Of The Rake
Key Below The Door

nerfed puzzle
secret exit is more obvious
added retry

Tubular CBT Version SWITCH PALACE
Clap For The Lava Reef Zone

made /v/ coin more obvious in last screen of first room
added retry

Do Americans Really?

slightly nerfed
added retry

A Layer 2 On My Heart
Krabs Koin Kontest

made spring section easier
added retry

This is Nice Castle
Tendie Tower

reduced boss HP
added 1-up checkpoint for boss

Windy Warship

moved midpoint
added retry

THE ORIGIN OF LIFE

timer is now 0
random powerup is now always a star

HELLMARI TOWER

added a warning to save at the end of the level

Masochistic Ghost House

softlock room time reduced to 150 seconds

Lanky Rave Cave
Powered Supply Fortress PLUS

added mushrooms
reduced boss HP

Fire In Da Hands

nerfed difficulty
blue fire now forces screen to scroll with player
fixed a softlock

SADIST COURSE EX
CONCEPTION
VERSION 1.03
fixed the shop (i hope) by changing the coin check value from hex to decimal
nerfed that part in /v/oom's gate that (YOU) kept complaining about
HOTFIX 1.01 and 1.02
removed debug orb
fixed gourmet race by changing sprite value to not access sa-1 related ram on bsnes
Fan Art
Download
Old Patches
Javascript Patcher
Other /v/ hacks